Soft Serve News and the Aurora Forecast page attempt to give a real-time answer to the question "can I see the Northern Lights or not?"

I wrote it (and the premier Aurora Alerts Service on the internet) because of all those times I went from my warm confines in Chicago to some darkened field in Wisconsin only to find myself shivering before an empty sky.

We on the Auroral fringes can't help but be a bit jealous of our friends in Alaska, Canada, Norway, Siberia and elsewhere up north who have a little easier access to the Aurora.

Still, even for us sky-poor rubes in the south -- there is hope.

Years ago, on a bitterly cold night not 50 miles out of Chicago, I saw an amazing Aurora. It started out as a ghostly green crown floating over the northern horizon. But it soon grew to a massive colorful display directly over my head (and a good 40 degrees into the southern sky). For someone who has hunted the Aurora for so long and then to be paid off by such an enormous show, the next few hours were indescribable. At one point, suddenly the sky turned as red as blood; it was such a bright red, it was actually a bit unnerving.

I walked back towards my car stunned, frozen and elated. Overflowing with gratitude, I stopped on the frozen ground, got on my knees and thanked God for letting my eyes see such a sight.

Wherever you are, I hope you get a chance to see an awesome Aurora soon.

Good luck,

Jim Thomas
Editor, Soft Serve News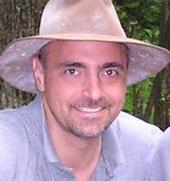 CONTACT US:

Email: help@softservenews.com


OUR THANKS:

Many thanks to NOAA, NASA, the US Air Force and the US Navy for the data used on this site.

Soft Serve News is a division of Forgotten River, Inc.